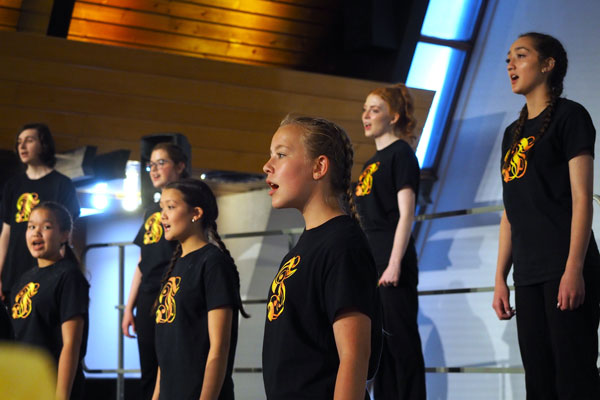 ---
PRINCE GEORGE Tapestry Singers is a community choir that welcomes children and youth in Grades 4-12.
Tapestry strives toward a high level of artistic excellence in choral performance along with personal and social growth.
Tapestry's mission is to create a joyful and beautiful sound, strive for choral excellence, and foster a life-long love of music making.
Our Tapestry community is supported by parents, foster parents, guardians, grand-parents, musicians, dancers, artists, and friends.
Their skills, commitment, encouragement, and love help our singers to thrive.
JUNIOR Singers: Grades 4-7 SENIOR Singers: Grades 7-12
---
Carolyn Duerksen
Founder and Artistic Director
Maureen Nielsen
Pianist
---
Tapestry Singers 2020 - 2021
SENIORS - "Scarborough Fair"
---
Tapestry Singers 2018 - 2019
SENIORS - Vancouver Island & Salt Spring Island Trip
Ban, Ban, Caliban
Text by Shakespeare - Music by Dan Forrest
By the Rivers of Babylon
Arranged by Susan Brumfield
Bring Me Little Water Silvy
Arranged by Moira Smiley
---
Tapestry Singers 2017- 2018
SENIORS - Foreigner October 2017 Competition